---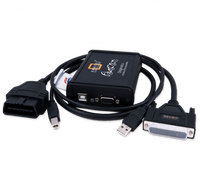 The ABRITES Vehicle Diagnostic Interface - AVDI is the latest generation diagnostic interface produced by Abrites ltd. for cars, bikes, trucks, water scooters, ATVs and heavy duty vehicles. It is the basis upon which the whole ABRITES products ecosystem is founded. AVDI is incredibly versatile, offering support for nearly all vehicle brands on the market.
The ABRITES Vehicle Diagnostics Interface (AVDI) is the latest version of our interface that allows the connection between our state-of-the-art software and your vehicles. The AVDI is the basis upon which the whole ABRITES products ecosystem is founded. On this basis you can build a bespoke package of solutions tailored to your needs. The basic package will give you access to a vast array of functionalities that will allow you to enter the world of automotive diagnostics with a minimal investment. Additional purchases will allow you to cover a range of functionalities that is often unmatched by OEM tools.

Each AVDI includes an Annual Maintenance Subscription (AMS) and Support Plan Service (SPS) for the first year of use in order to make sure that you get the full AVDI experience straight away. The AMS allows receiving the latest updates on the AVDI diagnostic software, and the SPS guarantees swift and effective technical support from our team of experienced professionals.
Furthermore, you will be able to perform basic diagnostics to all supported brands - Audi, Volkswagen, Seat, Skoda, Bentley, Lamborghini, BMW, MINI, Rolls Royce, Renault, Dacia, Mercedes-Benz, SMART, Mitsubishi, GM, Peugeot, Citroen, Opel/Vauxhall, Porsche, Honda, Ford, Mazda, Jaguar, Land Rover, Toyota, Lexus, Volvo, FIAT, Alfa Romeo, Lancia, Jeep, Subaru, Nissan, Infiniti, Chrysler, Dodge, Kia, Hyundai, Suzuki, Daihatsu, DAF, Aprilia, BMW, Bombardier Recreational Products and others.
The basic diagnostics that can be performed to all brands listed above are as follows:
Complete vehicle scan
Module identification

 

– see all modules in the vehicle, complete with VIN and part numbers (where applicable)
Reading and clearing diagnostic trouble codes (DTCs)
Live data display

 

– see live data from the sensors in the vehicle in real time
Actuator testing

 

– identify any possible issues in the car by performing actuator tests

What's more, all owners of AVDI receive the PassThru driver, which is an invaluable tool allowing you to work with original equipment manufacturer software (OEM), when necessary as well as a vast array of special functions allowing them to get the full experience of our products straight away. You can find details of those by brand listed below.

The J2534 PassThru driver is compatible with the international SAE standards, and emulates different interface units in order to access 3rd party software products. This means, that you can access original equipment manufacturer products and work with them via AVDI, no need for additional tools. It saves time and expenses, leaving you and your customers happy.