---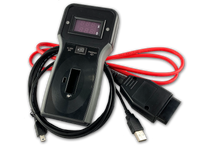 BMW/Mini Cooper OBDII Key Programmer is a device is designed to quickly program new original keys or PCF 7936 chips in BMW and Mini Cooper vehicles. (Vehicle coverage available at the bottom of the product description)
Key programming usually takes 10-15 seconds (for older type CAS modules, software versions before ISTA-P-41) and 8-11 minutes (for newer type CAS modules, software versions ISTA-P-41 and up). 
Newer software versions CAS modules will take longer time to program the keys, but take quicker (10-15 seconds) the next times you try to program new keys or PCF 7936 chips. 
 Functionality:
-Key programming
-PCF 7936 chip programming
-Factory car alarm turn off for the time of programming (allows safe key programming without any factory car alarm interrupting)
-LED flashlight for OBD socket easy access (allows you to provide service for customers, when there is no flashlight available and you cannot find OBD socket)
Programmer is powered by the OBD, while the LED flashlight has to be charged through USB socket. 
The device turns off factory security alarm for the time of key programming.
Two LEDs (D and K) indicate programming process and troubleshooting. Refer to the user manual to find out more.
Download software here: CLICK
Download manual here: CLICK
Vehicle coverage:
BMW 1′ E88 (11/2006 — 10/2013)
BMW 1′ E82 (11/2006 — 10/2013)
BMW 3′ E90 (02/2004 — 08/2008)
BMW 3′ E90 LCI (07/2007 — 12/2011)
BMW 3′ E91 (02/2004 — 08/2008)
BMW 3′ E91 LCI (07/2007 — 05/2012)
BMW 3′ E92 (05/2005 — 02/2010)
BMW 3′ E92 LCI (11/2008 — 06/2013)
BMW 3′ E93 (09/2005 — 02/2010)
BMW 3′ E93 LCI (11/2008 — 10/2013)
BMW 5′ E60 (05/2003 — 12/2009)
BMW 5′ E60 LCI (10/2005 — 12/2009)
BMW 5′ E61 LCI (11/2005 — 05/2010)
BMW 6′ E63 (05/2002 — 07/2010)
BMW 6′ E63 LCI (04/2006 — 07/2010)
BMW 6′ E64 (09/2002 — 07/2010)
BMW 6′ E64 LCI (04/2006 — 07/2010)
BMW X1 E84 (04/2009 — 06/2015)
BMW X5 E70 (01/2007 — 12/2013)
BMW Z4 E89 (01/2008 — 08/2016)
—————————————
MINI R56 (11/2005 — 07/2010)
MINI R56 LCI (04/2009 — 11/2013)
MINI CLUBMAN R55 (10/2006 — 07/2010)
MINI CLUBMAN R55 LCI (03/2009 — 06/2014)
MINI CABRIO R57 (11/2007 — 07/2010)
MINI CABRIO R57 LCI (04/2009 — 06/2015)
MINI COUPÉ R58 (01/2011 — 05/2015)
MINI ROADSTER R59 (01/2011 — 04/2015)
MINI COUNTRYMAN R60 (01/2010 — 10/2016)
MINI PACEMAN R61 (03/2012 — 09/2016)