---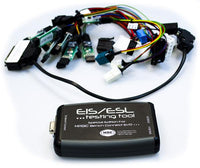 EIS/ESL Testing tools - our new device designed for on-bench testing of EZS (EIS), ESL (ELV). Tool is designed with ESL Emulator hidden inside and it has automatic switch - it can either read ESL or switch into  emulation mode.
You can test both old (Motorola based EZS) and new (NEC based) ignition locks without the car - just connect them with special set of cables. This tool replaces previous devices: EIS cables set, ESL emulator, W204/207/212 and W221/215/164 testing cables.
The device is only compatible with MAGIC Bench Connect EVO. It doesn't work as the original EIS/ESL Testing Tool.
Video manual: