---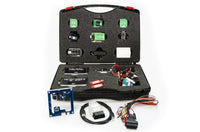 EVO 4 Kit - evolution of MBE Evo 4 locksmith, kit that offers big flexibility and possibilities for its users. This kit contains newest generation of software in key programming for Mercedes Benz but it also allows to work with ELV (Electronic Steering Locks) and other components in Mercedes Benz vehicles (erasing of gearboxes, ECU's etc). This kit was designed for more advanced users that are not afraid of their work with EEPROM's and soldering. It not only allows to work with new BGA keys but also with older generation of Mercedes Benz vehicles. 
BGA At least one key VIDEOMANUAL
What is the most important add-on is a function that allows in an easy way, to read password and program keys in vehicles with BGA keys:
Add key (at least one existing key), list below covers only BGA equipped vehicles
W164 2009 +
W166, 
W197 
W212 
W218
W246
W169
W209
W211
W172
W204
C207
W216

W221
W639 2009+
All key lost, list below covers only BGA equipped vehicles 
W204
C207
W166
W197
W212
W218
W246
All calculations for BGA keys are done on-line and internet connection is required; software works in pay-per-use way. It comes with 20 credits (20 password calculated).
Set contains:
HARDWARE:
-MB Keyprog 2 EVO main adapter
-IR Key Tools W204/W207
-MB Magic Eraser + connection cable
-204/207 adapter
-204/207 click 'n go
-PCB adapter: DB9 main + 3 NEC PCB
-USB cable
-USB security dongle (may be included in MBKeyprog 2 Evo device, not seperately)
-DATA flash memory card
-MB main OBD cable + OBD female power

-NEC IC Socket
-EEPROM Programmer
-EIS/ESL Testing tool
-MB Testing key
-MBprog HC05/08/12 programmer
-2 adapters: MC68HC05x32, MC68HC05E6

SOFTWARE:
-BGA software
-204/207 software
-Sonderhash account
-NEC Prog v. 12
-IR Tools basic software
-IR Tools EZS password reader
-ESL/ELV Evo Prog
-Eeprom programmer
-Multiprog
-20 credits
Attention: if you have existing MBE Engineering set, you can contact us to update your set to work with BGA/204/207 vehicles. Contact us directly.