---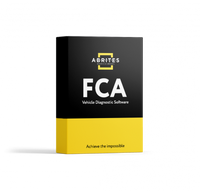 This powerful license is dedicated to the PIN code reading and key and remote-control programming of Fiat/Lancia/Alfa/FCA (FIAT CHRYSLER AUTOMOBILES) vehicles for mechanical keys and keyless access keys.

License highlights:
Program keyless keys for the latest FCA vehicles, manufactured after 2020.

New models 2020+ added for key programming!
Alfa Romeo Guilia and Stelvio
Jeep Renegade, Compass, Wrangler, Gladiator
Fiat 500X
Dodge RAM (DT)
Fiat Qubo 2020+ and Fiorino 2020+
Maserati Levante and Ghibli

Main functionalities:
PIN reading and Key programming
Transponders/Keys preparation
Remote control programming
BCM - Configuration data read and update PIN

Key learning and remote programming by OBDII

Transponder maker by dump - Preparing transponder by dump of BCM to be ready for key programing.
BCM Read/Update ConfData by OBDII from:
BCM Delphi (93C66) - NOTE: PIN Code is required!
BCM Delphi (NEC 70F3237/70F3379,93C86)
BCM Delphi (NEC 70F3556)
BCM Delphi (NEC 70F3557)
BCM Delphi (NEC 70F3632/70F3633) (up to 2020)
BCM Marelli (912DG128, 3K91D)
BCM Marelli (9S12DG256, 1K79X)
BCM Marelli (NEC 70F3237/70F3378,95160)
BCM Marelli (NEC 70F3633,95320)
BCM Marelli (MB91465P, 95640)
BCM Siemens (9S12DG128)

In some vehicles, security gateway may be present, in which case the CB010 is required to perform the procedure.
In All Keys Lost situations on keyless vehicles, an additional cable will be required, which will soon be available in the online shop.

An AVDI interface with an active AMS in order to purchase and ZN002 Protag programmer is needed to use this license.