---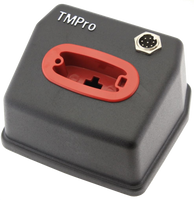 Transponder Maker Pro (also known as TMPro keymaker or TMPro2 keymaker) are softwares for transponder key making, transponder key programming, transponder key copying and PIN code/ security code calculating. Protection programmer is small box, which have to be connected to free USB port of computer. Software user interface supports 10 languages – Bulgarian, English, French, Portuguese, Polish, Hungarian, Spanish, Serbian, Italian and Czech. They are simply to use and offer wide range of softwares that supports various immoboxes and keys. All softwares are auto-updateable to latest version available on server. At start of software it checks if there is new version released. If released, software automatically updates itselfs, this way you always run latest versions. 
TMPro softwares are designed to help in locksmith`s job.TMPro are organized as modular softwares. This means that every supported immobox or BCM is separate specific software module. At begining you can purchase TMPro programmer without any softwares. In future you can add new softwares easy by simple software purchasing system.
TMPro works with immobilisers eeprom dumps. You must have electronic knowledges and to know how to use soldering-desoldering tools and memory devices programmers.It is your choice what programmer you will use for reading memory devices – built in TMPro memory device programmer or other progarmmer. In order to program transponder you have to remove immobox/BSI/UCH unit from car, open it, desolder memory device or solder wires on testpoints, and read it. Depending of vehicle memory device can be serial eeprom, Motorola MCU, Microchip PIC MCU, ST10F269 MCU, Texas Instruments MCU etc… Next step is to program transponder. Last step is to solder back memory device, reassemble immobox/BSI/UCH and fit back to car.
TMPro uses various types of transponders and keys. 
In information box below module picture is shown what transponder or key have to be used with particular software module.
Used types are:
Sokymat Nova, also known as Silca T5 or JMA TP05.
Philips PCF 7935. You can use also Silca T15 or JMA TP14.
All HITAG2,like Philips PCF 7936,7946,7947 etc… You can use also Silca T14 or JMA TP12.
Sokymat Magic, also known as Megamos Crypto.You can use also Silca T6 or JMA TP08. 
JMA TPX1/Errebi TX1
JMA TPX2/Errebi TX2
Chinese CN1 or CN2 or CN5 or YS-01.
Texas DST, also known as Texas Crypto or Silca 4D-60 – JMA TP06/TP19
JMA TPX3/TPX4 or Errebi TX4/TX4A.
Motorbikes
SOLUTION for motorbikes and scooters – BMW, Ducati, Yamaha, Suzuki, Kawasaki, Honda, Aprilia, Moto Guzzi, Gilera, KTM, MV Agusta, Peugeot, Piaggio. 
THERE IS NO tool in the world that supports more motorbikes for key making!
Using specific softwares 25, 33, 58, 66, 68, 90, 96, 98, 101, 108, 109, 128, 129, 131, 168, 171, 177, 178, 182, 183, 186, 189, 191, 193, 196, 198 (26 in total) you can solve LOST KEY or make SPARE KEY. For BMW, Ducati and Kawasaki there are softwares for keyless models.
TMPro is FIRST tool in the world that can make key for keyless BMW motorbikes. More info.

Range/ Land Rover
SOLUTION for Range Rover and Land Rover 2001-2010.
TMPro is FIRST tool in the world that can make key for Range Rover Sport and LandRover LR3 with PIC18F6620 in BCM.
TMPro is FIRST tool in the world that can make key for Land Rover with SAWDOC immboiliser with PIC18F252.
Using specific softwares 40, 174, 180, 181, 199 you can program transponder ready to start car. For Range Rover Sport or Land Rover LR3 remote part of key will be programmed and will work. More info.
Fiat/ Lancia/ Alfa Romeo
SOLUTION for Fiat/ Lancia/ Peugeot/ Alfa Romeo/ Citroen CODE2 cars.
Softwares cover all vehicles from 1999 till present, which use precoded by chassis number keys with ID44(PCF7935), ID48(Megamos Crypto) and ID46 (PCF7936/PCF7946).
NO MORE need to order keys from dealer and to wait for them.
Using software modules 6, 7, 8, 9, 45, 48, 59, 100, 112, 118, 175, 194 software prepares chip ready programmed to start car. Softwares also show PIN code if you need to program keys by OBD2.
NOTE: REMOTE part for keys that use PCF7946 will be programmed and will work. More info.
Porsche
SOLUTION for Porsche cars 1997-2005 with PAS ALARM unit that uses ID13 or ID48 in key.
Using specific softwares 54 or 165 you can solve LOST KEY or make SPARE KEY very fast, no need car in your workshop, only PAS ALARM unit.
Toyota/ Lexus/ Subaru
SOLUTION for Toyota, Lexus, Subaru, Peugeot and Citroen cars, that use 4C, 4D-60, 4D-67, 4D-68, 4D-70, 6D-72 and 128-bit AES chips.
NO MORE need to wait for reseting of immobox and ECU and to use expencive dealer keys.
Using specific softwares 52, 83, 87, 92, 153, 188 you can program transponder ready to start car.
Truck software
SOLUTION for trucks – Volvo, Mercedes, MAN, Renault, DAF, Scania, Mitsubishi Canter Fuso.
Using specific softwares 34, 37, 51, 53, 88, 93, 151, 170 you can solve LOST KEY problem or make SPARE KEY.
Copying software
Key copying softwares allows you to copy many different key types – fixed ID11, ID12, ID13, ID33, ID4C and crypto ID41, ID42, ID44 VAG, ID45, ID46, ID4D, ID8C and ID48 for Kia and Daewoo.