---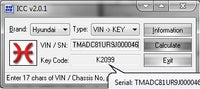 ICC - Advanced Immobilizer PIN Code Calculator
Till the end of 2019 year we offer two times more free tokens for users of old calculation platform in case of upgrade to Code Wizard Pro 2. Take your chance!
Download software and drivers.
Software v. 2.1.2 update is available now!
ICC is a world's first advanced Immo Code Calculator with support of many secret algorithms used in car immobilizers made by Siemens, Bosch, Sagem, Delphi, Melco, Denso, Calsonic Kansei, TRW, Valeo, Magneti Marelli, Megamos, Temic, Lucas, Texton and others for such brands as Nissan, Infinity, Kia, Hyundai, Renault, Dacia, Bentley, Volkswagen, Audi, Seat, Skoda, Peugeot, Citroen, Maserati, Alfa Romeo, Fiat, Iveco, Lancia, Honda, Acura, Mazda, Mitsubishi, Opel, Vauxhall, Chrysler, Dodge, Jeep. ICC can calculate Pin Code from VIN, serial number of immobilizer or related electronic module or eeprom dump for over 400 models of cars.For over 100 vehicle models ICC can calculate pin code from VIN or serial number of electronic unit by using more than 20 of supported secret algorithms. For over 35 vehicle models ICC have a list of default immobilizer codes. For over 350 vehicle models ICC can calculate pin code by dump of EEPROM readed from ECU, BCM, BSI, UCH, REC, Dashboard, Keyboard, Radio or Immobilizer unit - more than 315 of various EEPROM structures (i.e. electronic modules, their software or hardware modifications) and various encryption algorithms are supported. Every month we are adding solutions for other car models to satisfy all of our customers needs.For example, current version of ICC supports more than 90 of various EEPROM formats of PSA models (Peugeot, Citroen), about 60 of various EEPROM formats of VAG models (VW, Audi, Seat, Skoda, Bentley), about 50 of various EEPROM formats of Fiat Group (Fiat, Alfa Romeo, Maserati, Lancia, Iveco), about 35 of various EEPROM formats of GM models (Opel, Vauxhall, Chevrolet, Holden and others), 30 various EEPROM formats of Renault and Dacia models, 10 various EEPROM formats of KIA and Hyundai models. Current version of ICC supports at least following vehicle models:
Fiat Coupe, Croma, Albea, Ducato, Fiorino, Siena, Punto, Multipla, Punto 2, Bravo, Tempra, Palio, Marea, Tipo, Cinquecento, Brava, Ducato 2, Doblo, Ducato 3, Seicento, Panda, Panda 2, Ulysse, Scudo, Grande Punto, Barchetta, Marengo, Strada, Idea, Nuova 500...
Nissan Altima, Almera, Armada, Frontier, Maxima, Cefiro, Murano, Micra, March, Merca, Navara, Note, Pathfinder, Primera, Patrol, Quest, Quashqai, Sentra, Teana, Titan, Terrano, X-Terra, X-Trail, 350Z, Versa, Atlas, Cabstar... 
Hyundai Accent, Matrix, Elantra, Santa Fe, Trajet, Terracan, Getz, Coupe, Sonata, Grandeur, Tucson, H-1, XG, Atos, Prime, Veracruz, Grand Starex, Tiburon, HD65, HD72, HD78, HD120, HD160, HD250, HD320, H200, Gold, Verna...
Mitsubishi Colt, Mirage, Magna, Carisma, Galant, Lancer, Pajero, Outlander, 3000GT, Space Star, Montero, Eclipse, Shogun, Sigma, Space Wagon, Magnum, Endeavor, Lancer Evolution, L400, Pinin, Diamante, Space Runner... 
Volkswagen Bora, Polo, Caravelle, Gol Plus, Golf 4, Golf 5, Sharan, T4, T5, Jetta, Beetle, Passat B5, Passat B6, Touran, Rabbit, Touareg, Lupo, Fox, Transporter, Caddy, Gol, Vento, Pointer, Parati, Phaeton...
Kia Rio, Sorento, Sephia, Mentor, Spectra, Cerato, Carnival, Sedona, Opirus, Sportage, Bongo, Shuma, Carens, Picanto, C'eed, Magentis, Optima, Amanti, Pride, K2700, 3000S, 2500TCI, K4000S...
Renault R-19, Megane, Scenic, Laguna, Twingo, Safrane, Espace, Clio, Kangoo, Master, Laguna II, Megane II, Scenic II, Mascott, Magnum, Midlum, Premium, Clio-2, Symbol, Thalia, Vel Satis...
Mazda 323, 323F, 626, 121, Demio, Metro, Xedos 6, Xedos 9, MPV, MX-3, MX-5, MX-6, Miata, Millenia, Premacy, Familia, Protege, Capella, Cronos, Eunos 500, Eunos 800...
Opel Corsa, Astra, Vectra, Omega, Tigra, Speedster, Agila, Meriva, Zafira, Sintra, Frontera, Monterey, Combo, Vivaro, Movano, Kadett, Vita, Signum... 
Citroen Xantia, XM, Xsara II, Picasso, Berlingo, C2, C3, C4, C5, C8, Saxo, Jumper 2, Jumper 3, Relay 2, Relay 3, Evasion, Jumpy... 
Vauxhall Movano, Agila, Astra, Calibra, Corsa, Frontera, Monaro, Meriva, Omega, Tigra, Vectra, Zafira, Monterey, Vivaro, Signum...
Peugeot 106, 107, 206, 207, 306, 307, 308, 406, 407, 605, 607, 806, 807, 1007, Partner, Ranch, Boxer, Boxer 2, Boxer 3...
Chevrolet Meriva, Corsa, Astra, Optima, Viva, Chevy, Classic, Sail, Trooper, Vectra, Zafira, Nabira... 
Chrysler PT Cruiser, Sebring, Stratus, Pacifica, Town & Country, Voyager, Concorde, Cirrus, 300C... 
Honda Insight, Civic, Accord, Prelude, S2000, CR-V, Odyssey, Pilot, Element, Ridgeline, Fit...
Seat Alhambra, Arosa, Toledo, Cordoba, Altea, Leon, Ibiza, Cupra, Inca, FR...
Infinity FX35, FX45, G20, G35, I30, I35, M35, M45, QX4, QX45, QX56, Q45... 
Audi 80, 90, Q7, R8, TT, A2, A3, A4, A5, A6, A8, S3, S4, S6, RS4, Allroad...
Alfa Romeo 145, 146, 147, 155, 156, 159, 164, 166, GTV, Spider, Brera... 
Skoda Pick-up, Roomster, Superb, Octavia, Octavia 2, Fabia, Felicia...
Suzuki Wagon R, Karimun, Swift, Grand Vitara, Grand Escudo, SX4...
Holden Barina, Astra, Jackaroo, Monterey, Frontera, Vectra, Zafira...
Lancia Lybra, Dedra, Delta, Kappa, Zeta, Phedra, Ypsilon, Thesis... 
Dodge Neon, Stratus, Caravan, Charger, Magnum, Caliber...
Acura Integra, RSX, RDX, CL, TL, RL, MDX, TSX, NSX...
Volvo Polar, 850, 940, 960, C70, S40, S70, V40, V70... 
Land Rover Discovery, Freelander, Range Rover...
Isuzu Rodeo, Wizard, Amigo, Bighorn, Trooper...
Iveco Daily, Truck, Stralis, Eurocargo, Tector... 
Rover 25, 200, 216, 220, 420, 620, MG ZR...
Maserati GT, Quattroporte, GranTurismo...
Porsche Cayenne, Boxster, 911 Carrera...
BMW E34, E36, E38, E39, E46, E53...
Dacia Solenza, SuperNova, Logan...
Jeep Grand Cherokee, Liberty...
Bentley Continental...
Cadillac Catera...
Jaguar S-Type...
Subaru Traviq...
Ford Probe...And many other familiar vehicle models. Please check "Description" section for list of supported car models and methods of code calculation.As option, ICC can calculate a bitting code for electronic key cutting machines to make a new car key in cases when all car keys was lost. Over 30 of Korean vehicle models with 6 various key types are supported at the moment. And for Nissan and Infinity 1998-2008 models made for USA, Mexico and Japan ICC can calculate keycodes by VIN.
ICC is very easy and user friendly in useCombination of simplicity and power is a guarantee of success. Take a look on picture, you don't need to be a expert - just select a vehicle brand, type of pin code calculation method and enter required data. That's all, you will get calculated pin code in a second!And for pin codes by dump of eeprom ICC have autodetection of vehicle model and eeprom type, includes automatic byte swap function. Dump files are supported in 6 various formats, such as - raw binary file format, E2P file format used in PonyProg, Intel 8-bit HEX file format, Motorola S-Record file format, ETL EEF file format used by ETSmart, and simple ASCII HEX file format. You do not need to use any additional file converting utilities. Just drag-n-drop dump file onto ICC window or press a button to browse. For various formats of data files with wrong extensions ICC have built-in smart auto-detection algorithm.ICC shell for Windows NT / 98 / ME / 2000 / XP / 2003 / Vista: ICC can share power with your own projects. ICC dongle is based on most secure Smart Card chip and operates in USB HID mode - driverless. ICC dongle can be updated remotely, new algorithms can be programmed to dongle via internet or locally using dongle update utility:
You can use ICC dongle in such projects as web/wap/sms server for pin code calculations, client-server application or standalone software like programs for ECU reprogramming and diagnostics or even for key duplication machines or transponder programming devices. All of code calculation algorithms are stored in dongle and can be executed from your own software using simple API calls. For example, function for calculating pin code from PC program looks like this one:
PinCode = CallDongle(NATS_ICU,Serial);
printf("Immo Code is: %d\n", PinCode);
As well we can add your own secure algorithms to ICC dongle. Furthermore, in the future, possibly to use hardware based cryptographic algorithms built in dongle, such as DES, 3DES, AES, RSA; hash algorithms such as MD5, MD2, SHA1 and any others software based cryptographic algorithms and hash functions. Dongle's CPU working frequency is a 16Mhz and we reserve 16kb of memory for loadable modules - you can use this space to store your secret algorithms and cryptographic keys. Dongle's memory is rewritable - i.e. you can update or change to other your executable module in dongle. This is well enough for any solutions.
And for large orders from producers of diagnostic and key programming equipment we can offer ICC as dynamic library (dll) for using all of ICC features in your own projects. Just write your own GUI (Graphical User Interface) and simple call ICC's code calculation algorithms using provided API.