---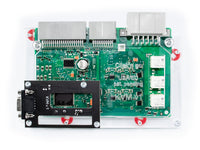 Click'n Go allows to read dump file out of Land Rover KVM v.1 modules.
MDProg required to use with this adapter to read data.
Take a look below to compare these two elements with your own board.
Number 1 should be an empty spot with no elements, number 2 should have exactly this lenght. If there is an element in number 1 spot and the number 2 element is longer then it is the version 2 KVM.
NOTE: You need to desolder one oscillator if you have MCU MC9S12XEQ 384.
Check below for the correct oscillator to desolder. If you have MCU MC9S12XET 256 then you do not need to solder anything.