---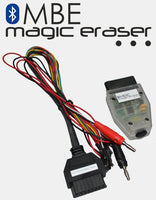 MAGIC ERASER - specially designed tool, consisting of software, Bluetooth module and connecting cables. MAGIC ERASER  by MBE Engineering allows to neutralize (bring back to 'virgin' state) Mercedes-Benz ECU's, gearboxes, ESM/DSM modules and ELV's. If you have one of those module in 'virgin' state you can program it into the car with the use of any diagnostic software (like STAR DIAGNOSTICS).
You cannot renew ELV with Fatal Error.

SETUP FEE - activates sonderhash.com account. It contains 1 tokens. Required to work with MAGIC ERASER, ESL EVO PROG, IR TOOLS (EZS EXTRA OPTION).