---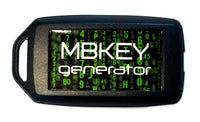 NEW MBKEY generator by MBE Engineering works with SKC software. Device calculate keys in 10 min after EIS dump is uploaded
1-Generates 8 MB Keys by EIS dump without the need of ESL, ESM, ECU. - For all types of: 210, 203, 209, 211, 219, 164, 169, 221, 204, 212.

2-For all cars with old big keys (Motorola inside) You can program a new key by OBD or 38 PIN if you have one working key.

3-Autodetection of EIS type, chassis number, mileage, number of used or disabled keys, and last used key.

4-Autosave of generated key files in the main EIS folder, in selected type 011,021,051.