---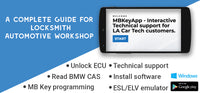 Complete guide for automotive workshop
Account activation may take up to 24 hours.
We would like to present you a LACarSupport that is an application describing operations done in our software. You'll find anything here that will help you to work with cars, programming keys, working with ECUs, installing our software.

The app is nicely organised that will help you out in no time. It goes from A to Z explaining things that would take plenty of time to find out by yourself.

The application is available HERE.
The main app functions:
in-depth Mercedes-Benz key programming
detailed guide of programming ESL/ELV emulator
full guide of unlocking modules with our hardware
reading EEPROM for keys
working with Magic Bench Connect Evo
videomanuals of working with Orange5
working with DiagCode software
full guide on software installation
great guide of making a key on-board
access to buying Sonderhash Tokens with a special discount for app subcribers
access to buying our cables and Click'n go Adapters with special discount for app subscribers
you can ask technical questions and they will be taken care of as a priority
The app is available to download on Android devices and Windows computers through internet browsers.