---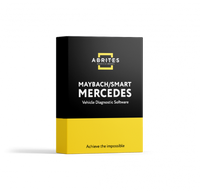 The MN031 license is developed by the Abrites team for procedures related to the vehicle's Immobiliser. This functionality allows various procedures to be performed on the Mercedes-Benz truck range of vehicles. These include:
 
Spare key programming
ALL KEYS LOST
for all infrared-based trucks up to 2020

Module replacement - EIS/EZS, ECU (MCM), TCU (TCM)
    - Module reset (virgin)
    - Read/write coding
    - Personalisation
    - Activation

Supported vehicles include, but are not limited to:
Mercedes-Benz Actros
Mercedes-Benz Arocs
Mercedes-Benz Antos (and other models from the truck range)

In order to complete the key programming procedure, you will need the ZN003 Abrites PROTAG V2 Programmer, the TA69 Abrites Infra-red key for Mercedes trucks, the ZN051 Abrites Distribution box, as well as the ZN075 Abrites IR-adapter for Mercedes trucks. The ZN075 is used for password reading during key programming. In All Keys Lost situations the CB022 jumper cable is also required.
An AVDI and active AMS are required to purchase and use this product.