---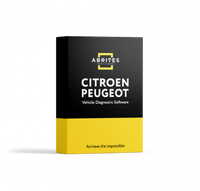 The PN018 PIN Manager is a leader in the aftermarket solutions for key and remote control programming for the Peugeot/Citroën PSA vehicle range. Abrites is always one step ahead in terms of PIN code reading and key/remote control programming, covering the whole range of vehicles. PN018 lets you read the PIN code from all BSI types, and program keys, all by OBDII, as well as skip wait mode for models 2018+.

The following BSI platforms are supported:
Siemens K-Line
Siemens CAN
Johnson Controls CAN (including 2015+ with SPC microcontroller)
Valeo CAN
Continental UDS (including 2015+ locked)
Valeo UDS
Delphi CAN (Latin America)
Delphi UDS

Supported models for PIN code reading:
208 II
308 II
508 II
2008 II
3008 II
5008 II
Partner III
206+
207
207+
208
301
307 CAN
308
RCZ
407
408
508
607 CAN
807 CAN
2008
5008
Partner II
Expert
Traveller
C3 III
C3 Picasso
C3 Aircross
C4 III
C4 Cactus
C4 Picasso II
C4 Aircross
C5 Aircross
Berlingo III
Partner
C3 CAN
C3 II
C-Elysee
C4
C4 II
C4 Cactus
C4 Picasso
C5
C5 II
C6
C8 CAN
Berlingo II
Jumpy
Dispatch
Spacetour
 
DS 3
DS 3 Crossback
DS 4
DS 4 II
DS 5LS
DS 5
DS 6
DS 7  Crossback
 
ProAce 2016+
 
Phedra 2008+
 
Crossland
Corsa F
Combo
Combo E
Grandland
Mokka
Vivaro
 
Scudo 2022+
Ulysse 2022+
BSI Exchange - allows you to read the whole content of the one BSI and transfer it to another one. You will need to own both special function PN018 and PN017 to complete this procedure. (all BSI units)

Аn AVDI interface with an active AMS is required to purchase and use this special function.