---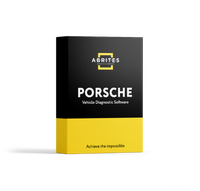 The PO008 is a license dedicated to key and remote control programming, as well as teach enable code (PIN) calculation for Porsche vehicles. The license allows also to perform coding, configuration, and adaptation of electronic control modules (adaptations models up to 2010 with activated PO007 license).

Supported models:
Porsche 996 GT2 (2001-2005)
Porsche 996 GT3 (2000-2005)
Porsche Boxster 986 (1997-2004)
Porsche Boxster/Cayman 987 (2005-2011)
Porsche Carrera GT 980 (2002-2006)
Porsche 911 996 (1998-2005)
Porsche 911 997 (2005-2012)
Porsche Cayenne 9PA (up to 2010)

N.B. KT011 license is required for key programming for Porsche models after 2011.
N.B. PO009 license is required for adaptations of electronic control modules for Porsche models after 2010.
Active AMS, Internet connection and a PROTAG programmer are required for the procedure.
An AVDI interface with a valid AMS are required for the purchase of the special function.