---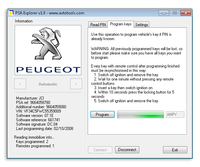 PSA Explorer is a unique solution on the market for programming Peugeot and Citroen immobiliser keys without knowledge of car's PIN code. All operations are easy to use and are done via OBD connector.
Features:
PIN reading - this function extracts PIN necessary for immobiliser key programming directly from car's BSI module via OBD. No more disassembly works, no more soldering, no need for dealer server! Fast and safe operation, just plug device into OBD and press the button. 
Keys programming - when PIN is already known, up to 5 keys/remote controls can be programmed for the car. 
User interface in multiple languages. 
Automatic updates via Internet.