---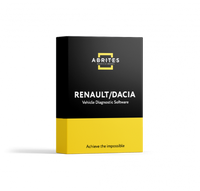 The RR018 is a powerful key programming functionality for Renault vehicles, which works only by OBD and allows the following:
Additional key programming
ALL KEYS LOST
 
Supported models:
Captur
Clio II Ph2/Ph3/Campus
Clio Symbol/Thalia/Classic/Sedan
Clio III (key/card)
Clio IV
Espace IV
Espace V
Fluence
Grand Modus
Kadjar
Kangoo Ph2
Kangoo II -2016
Koleos
Koleos II
Laguna II
Laguna III
Latitude
Master II Ph2/Ph3
Master III -2016
Megane II
Megane III
Megane IV
Modus
Safrane
Scenic II
Scenic III
Scenic IV
Symbol II
Symbol III
Talisman
Trafic II
Twingo Ph2
Twingo II
Velsatis
Wind
Dacia Logan
Dacia Sandero
Dacia Duster Ph1
Samsung SM3/SM5
Samsung QM3/QM5
Nissan Platina
Nissan Primestar Ph2/Ph3
Opel Movano A Ph2/Ph3
Opel Movano B
Opel Vivaro A
Opel Vivaro B
Fiat Talento

N.B. Please note that you will require a ZN002 PROTAG Programmer.
An AVDI Interface and active AMS are required to purchase this special function.
Please, refer to the Abrites Diagnostics for Renault/Dacia Online User Manual when performing key programming procedures.