---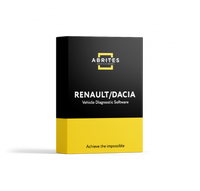 The RR020 is a key programming solution, which works only by OBD and allows the following:
Additional key programming
ALL KEYS LOST
 
Supported models:
Dacia vehicles with Continental BCM
Renault vehicles produced in Brazil
 
N.B. Please note that you will require a ZN002 PROTAG Programmer.
An AVDI Interface and active AMS are required to purchase this special function.
Please, refer to the Abrites Diagnostics for Renault/Dacia Online User Manual when performing key programming procedures.