---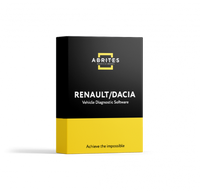 The latest Abrites license for Renault/Dacia allows odometer calibration and module replacement in the latest models from the brand.

Main functionalities:
• Instrument Cluster replacement
• ABS/ESC replacement
• Mileage recalibration in IC and ABS

Supported vehicles:
• Clio V/Captur II
• New Zoe

The RR025 allows mileage recalibration by diagnostics in Visteon instrument clusters (both variants - Low Line and High Line HD), and by dump in Calsonic Kansei instrument clusters (with mechanical pointers).
This license also allows independent reset to 0 by diagnostics in ABS BOSCH UDS.
In order to perform the above mentioned procedures, you will need the CB012 or CB021.
AVDI and active AMS are required to purchase and use this license .
*This functionality will be  activated on 24 October. Pre-order now!