---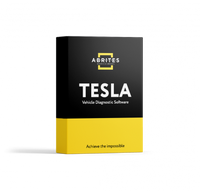 This full package contains the TS001 and TS002 special functions.
The TS001 key programming special function allows the addition of a spare key for Model S vehicles completely by OBDII. 
The TESLA Airbag Manager TS002 special function gives access to customers to perform various calibrations in the airbag module of all TESLA vehicles (Model S/X and Model 3). It covers both Bosch and Delphi produced airbag modules completely by diagnostics.

Supported functions for Bosch airbag modules: 
Airbag exchange
read/update data in the module (modify EEPROM)
clear crash data
change VIN

Supported functions for Delphi airbag modules: 
read eeprom
clear crash data (check the user manual for instructions)

The ZN077 cable set for TESLA is required to complete the procedure.
This product requires an AVDI (Abrites Vehicle Diagnostic Interface) and an active AMS (Annual Maintenance Subscription).