---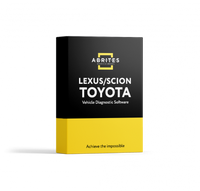 Special function TN011 is the breakthrough of the ABRITES team with regard to key programming in the latest generation of Toyota vehicles.
Spare key programming
ALL KEYS LOST

Supported models:
Corolla 2018+
Camry 2018+
Highlander 2018+
Mirai 2020+
 
No additional subscriptions (dealer access) are required to complete the key programming procedure. 
This solution covers said models, regardless of the market on which they are offered - all versions of the models are supported (US, European, UK, Asia). Smart system reset is NOT needed, nor a connection to Toyota servers.
Depending on the transponder type in the vehicle, either a DST-AES or a HITAG-AES emulator will be required. (TA64/TA68)
An AVDI interface with a valid AMS subscription, a ZN002 PROTAG Programmer are required to use this license.