---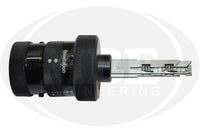 Opens door locks/ ignition of VAG group vehicles in few seconds
  
Turbodecoder, a masterpiece of precision engineering, allows for non-destructive opening of locks in VAG group (VW, Audi, Skoda, SEAT, Porsche and others) in several seconds. Additionally, when you unlock the car, you can read the key code and cut a new key with the use of electronic key cutting machine. 
 
TurboDecoder HU66 – VAG Generation 2/6 evolution (vehicles after 2006/2007 up till today). Tumblers in lock arranged in pairs, alternately.
 
Set contains:
- TurboDecoder
- resetting tool
- ID Key/ Test Key
- box
- movie
 
ATTENTION!! Sales and service tools for individuals (not affiliated with state institutions) takes place only through the shop mbkeyprog.com. Proper use of tools Turbodecoder requires proper training, equipment sold without adequate training is not covered by the guarantee. Contact us to arrange pickup and training.