---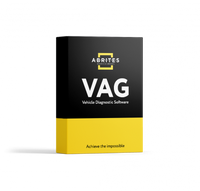 The VAG Full package latest version includes twelve specialised automotive solutions for the VAG professional. If you are mostly working on vehicles from the group and need a reliable set of functionalities, the VAG Full is ideal for you!

Main Functionalities:
Key Programming
Module Replacement
Component Protection functionalities
Advanced Diagnostics (including MMI configurations)
Reading Component Security Bytes from Locked BCM2 Modules
Mileage recalibration

Full list of solutions:

With the VAG Full package you are able to program keys for a wide range of models of the group with different Immobilisers, extract security data, access Component Protection functionalities in order to replace modules or program keys.

With the VN002 Parts Adaptation solution you can replace immobiliser data related modules, as well as Component Protection Generation 1 and 2 modules. Modules include Engine Control Units (ECUs), Transmission Control Units (TCUs), Immobiliser, Electronic Steering Lock (ESL), dashboard.  Other solutions related to parts adaptation are the VN005, VN013, VN017. Replacement of all component protection-related modules (if both the donor and host gateways are present) is made possible with the VN017 solution. The VN017 allows replacing the dashboard,  Climatronic and infotainment system by OBDII. With this solution you can read and update component protection bytes of Lear Gateway.

The key programming functionalities are presented by the VN003, VN006, VN009, VN012, VN020. Our latest solution - the VN020 allows reading Component Security bytes from locked BCM2 modules, which makes All Keys Lost and spare key programming possible for a variety of Audi and Touareg models.

Advanced diagnostics, such as MMI configurations, Long coding and adaptations are accessible via the VN018 solution. All these procedures are super user-friendly because of the coding helper available during working. The coding helper gives information about the meaning of every single byte of the coding allowing you to make the necessary changes to the module without the need for guesswork.

Mileage calibration is accessible via the VN007 solution, which allows the recalibration of VDO/Continental dashboard in MQB vehicles. The VN015, on the other hand, is intended for  calibration of the mileage in VAG vehicles from 1995 up to 2016 such as Audi A4/A5/A6/A7/A8 as well as many others part of the VAG group.

Get the VAG Full package and make your daily work with VAG vehicles effective and quick!
We also recommend getting the Abrites Support Plan Service in order to receive timely technical advice and help from our team of professionals.
Please, refer to the Abrites Diagnostics for VAG Online User Manual for more information.
All Abrites software products require the use of AVDI and active AMS.