---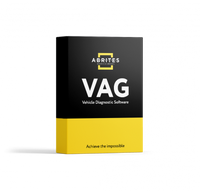 This is a very powerful special function used for parts adaptation and modules synchronization. It works both for immobiliser data related modules and modules related to component protection synchronization. Supported brands are Volkswagen/Audi/Seat/Skoda/Bentley/Lamborghini, and even some Porsche vehicles.

Immobiliser data related modules
Using VN002 you will be able to read/update IMMO data (PIN, CS, MAC), which lets you adapt used modules to a vehicle. The following units are covered:
Engine Control Units (ECUs)
(EDC15/EDC16/EDC17/MED17/ME7/MED9.x/Simos PPD/Simos PCR2.1/Magneti Marelli 4HV and 7HV and others
Transmission Control Units (TCUs)
S-Tronic (DL501), DSG (DQ200 and DQ250) and CVT
Read component security bytes from ZF8HP
Immobiliser
Electronic Steering Lock (ESL)
Dashboard (Details can be found in the Abrites User Manual for VAG )

Component protection
There are other modules that do not require IMMO data adaptation, but require component protection synchronization. Without this synchronization, the modules work with limited functionality (e.g. intermittent sound from radio). These modules can be grouped as follows:
Component Protection Generation 1
Audi A8 2003 – 2010, Audi A6 2004 – 2008: MMI, CD-Changer, ILM, and other modules
Component Protection Generation 2
Audi A6/A7/A8/Q7 2004 - 2010 and Audi A4/A5/Q5 2007 - 2015: EZS-Kessy, Comfort module, Climantronic, Airbag, Instrument cluster, infotainment, and other modules (possible only if you have a dump from the gateway of the donor vehicle)
Audi A6/A7/A8/ and VW Touareg (2010-2018): Dashboard and Infotainment modules

For additional Component Protection functionalities, please refer to our latest development VN017 - Component protection Gateway Lear A6 A7 A8 Touareg (2010-2017)

Other functionalities:
Read/update flash and eeprom data from dump files of Micronas MCUs;
Read/update Conf. data and clear crash data of Siemens and Bosch airbag modules
Read Component Security bytes and PIN of PCR2.1 ECUs on bench

This function includes all the features of the following functions: AN043, AN045 AN046, AN047, AN048, AN049, AN052, AN053, AN055, AN056, AN057, AN058.
If you own one or more of these functions, please write to sales@abrites.com to get offer to complete your license to VN002.
N.B. Please note that you will require an AVDI interface with an active AMS to use this special function.