---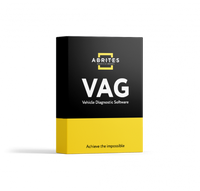 The VN005 Immo III/IV emulation is a unique special function, which allows replacing Immo-related parts, even when we cannot read the PIN/CS of the replacement module in a normal way, and even when the brand or the Power Class of the replacement module is different. It can be applied to ECUs and TCUs.
The function allows the replacement of modules previously considered unthinkable due to Power Class mismatch, with the use of the EM003 emulator.

Supported Units Immo III/IV: (where reading PIN/CS in a normal way is not possible)
TCUs: AUDI: A6 2003-2010, Q7 2005-2015, A8 2003-2010
ECUs: EDC16/EDC17/ME7/MED9/MED17; Simos benzin/Simos PPD/Simos PCR; Magneti Marelli; Delphi;

The function requires internet connection and a complete VN002 - PARTS ADAPTATION SPECIAL FUNCTION.
The VN005 special function requires an additional cable set (ZN052), as well as the Abrites Distribution Box ZN051, that allow you to start and complete the operation. Each module that is adapted (TCU or ECU) will require an EM003 emulator to be installed in the car.
Please note that you will require an AVDI interface with an active AMS.